Althea Coupon Codes
Active Althea Coupons & Voucher Codes - April 2019
Althea is a Korean beauty online retailer that is now available in the Philippines, simply buy more than P1500 of products and you can enjoy free shipping on some of the worlds best skincare & makeup items plus if you're looking for a bargain then look through the below Althea coupon codes & vouchers that our team of beauty bargain hunters have put together. As one of the most popular online cosmetics retailers in the Philippines they know how to treat the customer right, with 100% authenticity of all products guaranteed and a no questions asked 30 day returns policy you can shop for Korea's finest products with confidence, visit the Althea Philippines website armed with a voucher code to enjoy discounts on cleansers, shampoos, lipstick and hundreds of other toners & creams.
Active Althea Coupons & Voucher Codes - April 2019
Similar Promo Codes, vouchers & Discount codes to Althea - April

Verified

Offer Ends: May 31, 2019
Enjoy under the sun freshness with these products! Shop at up to 70% off discoun... more

Verified

Offer Ends: April 28, 2019
Wishlist your favorites now and checkout on april 24 to 28 to get an extra 20% o... more

Verified

Offer Ends: April 30, 2019
Minimum spend of P200. One time use only.... more

Verified

Offer Ends: December 31, 2019
Enjoy these deals for as low as P1!... more

Verified

Offer Ends: April 30, 2019
This promotion is open to all Lazada Philippines customers who will cash in for ... more

Verified
Save up to 20% discount on Clinique skincare and makeups... more
How to Redeem a Voucher Code
Redeeming a Althea coupon code only takes a few seconds and means you can shop for even more fabulous Korean cosmetics without going over your shopping budget (well at least not too much over). Here's how to get the best discounts at the Althea Philippines website.
1) Browse the special offers on this page
2) If you see something you like and it's a special offer or exclusive sale then click on the button 'Get This Offer' and you'll be taken directly to the offer page. If it's a voucher then click the button that says 'Get voucher code', you'll be taken to a new page displaying the voucher code, next to the code click the 'copy' button, then click the button below it that says 'Visit the Althea Website'. 
3) Once you're on the Althea store now you can shop away for Korean cosmetics, with your coupon or special offer now is a good to splurge on all the products you've been waiting to buy. 
4) When you reach your shopping limit, click on the black bag in the top right of the screen to go the checkout page (see the screenshot below). 
5) On the right side of the checkout page right click and paste the code into the box (the one we gave you) and click 'apply' to instant receive your discount.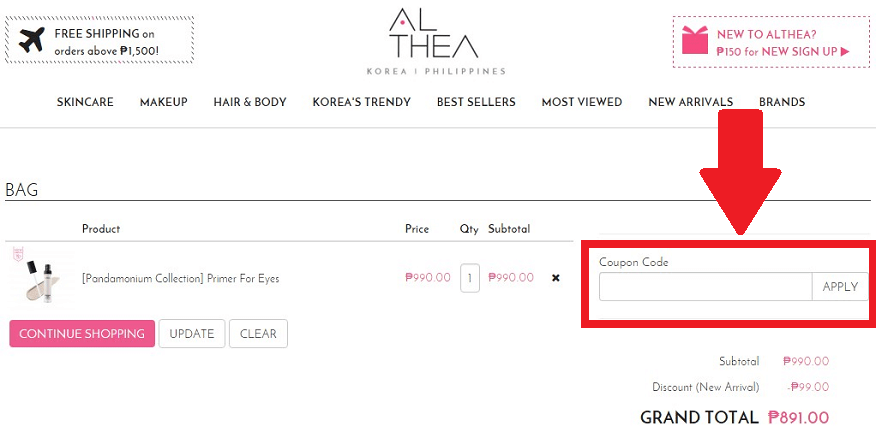 Related Categories
Shoppers Looking For Althea Coupons Also Looked For...
Popular Stores
Share a Coupon
Complete the form below to share your coupon with us.
Health & Beauty voucher codes, coupons and discounts
Newsletter
Sign up for an account to get the best Promotion Vouchers