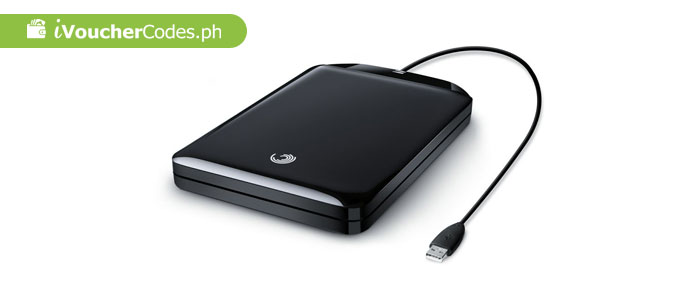 If you want to buy hard drives online, we've got you covered.
If you're like most people, you would surely be accumulating tons of media over time. Snapping away quick photos on your phone and shooting jaw dropping pictures from your SLR camera, collecting those hard-to-find songs as well as the new releases of your favorite band, favorite movies and more. It's time to back up those files and buy a hard drive.  Online shopping is becoming more popular in the Philippines thanks to a good selection of online stores where you buy electronics at lower prices. If you want to buy hard drives online instead of the mall you can save a lot of money, especially if you use Lazada voucher codes or voucher codes for some of the large online electronics stores.  Here are a few factors to consider when choosing a hard drive.
Types of Hard Drives
Solid State Drives (SSD) are significantly faster than HDD and much safer as there are no moving parts, but they are also more expensive. Hard disk drives (HDD) have 2 types, desktop drives and portable hard drives. Desktop drives are generally bigger; they need their own power source and are really meant to be stationed at a desk due to its size. Potable hard drives are much smaller and are meant to be carried on the go; they draw their power from the cable that you use to hook them up to the device – mostly USB. Before you buy a hard drive, make sure you know which type is more suitable to your needs.
Size of Hard Drive
Size matters! This will depends on how much media you have. As of post date, hard drives are available in 250GB, 320GB, 500GB, 750GB, 1TB, 2TB and 4TB. Buying a larger capacity hard drive will cost you more than purchasing a small hard drive. If you have an extensive collection of movies and music, 1TB or 2TB will be perfect. If you're planning on storing years of photos, 1TB can store these for you.  If you're storing documents and other smaller files, 250GB will do.
Hard Drive Transfer Speed
Most of the new hard drives available online now have USB 3.0 as this transfers files much faster than USB 2.0. Though USB 3.0 will still work with USB 2.0 slots, it will be transferring a lot slower. If you have a Mac, you might be interested in drives with a FireWire connector. Some hard drives can also transfer through Wi-Fi interface turning the drive into a data-sharing hotspot. Make a decision about how important data transfer speed is to you before shopping online for a hard drive as this will help you make the right purchase.
Hard Drive Case / Chassis
If you are planning to tote around the hard drive, considering a metal shell case is reasonable as they protect your device more than a plastic case will do. Plastic cases are cheaper but they tend to scratch easily.
Hard Drive Software Bundle
While most people use hard drives just as storage devices, some also use the software that they come bundled with. These are pre-installed softwares that come with the device to automatically and continuously back up your data. Some hard disk drives come with antivirus software for virus and threats protection. Some drives also have a password security feature to prevent data and information theft.
Hard Drive Prices
Hard drives prices are much lesser now that there are so many options and brands to choose from. Remember that it will cost less to back up your files than to try to retrieve it later when your computer crashes, plus the fact that retrieval services might not work. Hard drive prices on online shops vary a lot, so make sure you compare the prices first and read the specs carefully. If you are considering to buy hard drives online, consider the warranty offered too.
Shopping for gadgets is now made a lot easier by online shopping. A few clicks here and there and you can compare hard drive prices, specifications, brands, warranty, chassis kind and color and more. Save money when you use our voucher codes and discount coupons at the largest online shopping malls in the Philippines.