Baby Outlet Review – Online Baby Store in the Philippines Review
Published: August 3, 2014 Parenting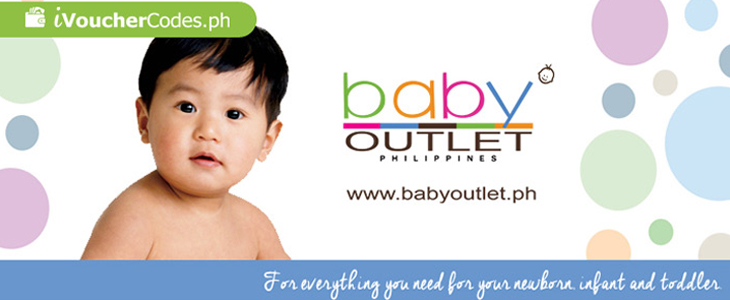 Whether you want a stroller or feeding bottles for you little angel, you can browse through a wide range of baby products offered in this site. This post will also give a detailed Baby Outlet Review  so you know what to expect from this online retailer.
Baby Outlet Review – a quick review of the process of ordering from Baby Outlet, an online baby store in the Philippines
Wide Range of Items
Baby Outlet seems to have everything mothers want for their children. And not just the kids, there are items for mommies too, like maternity and nursing wear. Here are some of the categories of items that the company sells:
Baby Feeding Bottles
Bath & Potty
Carries & Slings
Moms & Maternity
Playwear Sets
Safety & Security
Sleepwear Sets
Towels & Blankets
Toys
Travel Accessories
All of these items come from a wide selection of brands too, and they include names such as Avent, Tommee Tippee, Dr. Brown, MAM, NUK, Playtex, Ergo, Pigeon, Lifefactory, Para'Kito, Aveeno, Benbat, Fisher Price and Bumbo – to name a few.
More Than Just an E-commerce Site
 Although moms can always browse through the site to find new items, Baby Outlet also has several social media accounts that you can look through as well. They have a presence on Facebook, Twitter, Pinterest and YouTube.
Mommies can get new ideas and be updated on what's going on with Baby Outlet through the company's different social media platforms. On YouTube, moms can watch informational videos while they can also get beautiful nursery ideas through the different Pinterest boards of the company.
They can interact and share with different parents on Facebook or Twitter. And given that this age is much more focused on digital, mommies can always get their updates while checking through Facebook and Twitter.
How to Order
The process of ordering on Baby Outlet is pretty straightforward. You can choose to create an account first, which is always recommended, or create one when you're ready to buy something.
That said, here is how you order an item on the Baby Outlet online shopping site:
Choose an item that you want to buy
Proceed to check-out (you can also choose to continue shopping if you want more than one item)
Log in to your account
Enter your address for delivery
Pick your shipping method – JRS, LBC, Xend
Select your payment method – cash on delivery, cash on pick up, bank payments, PayPal, credit card, G-Cash, Western Union
Confirm your order
It's fairly easy and once you've completed the process, let the anticipation begin for your newly purchased items! The waiting process for the arrival of your newly purchased baby products is not long thou. Baby Outlet dispatches your purchase the same day that you submit your order (if for cash on delivery) or send payment providing the payment is sent before 6pm. Metro Manila is usually guaranteed next day delivery while provincial orders usually take 2-3 days. The tracking number for your order is sent to your email, tracking is easily done on the courier's website.
Payment Options
What's more convenient about Baby Outlet is that they offer different modes of payment. Yes, the world may be getting more digitalized but it's also good to acknowledge those who have a connection to the internet but do not have credit cards.
With Baby Outlet, you can pay through the following methods:
cash on delivery – pay the delivery man once he comes to hand you your package
cash on pick up – you can opt to pick up your items at Baby Outlet's office or pick-up point; Baby Outlet requests buyers to schedule before picking up. Buyers may pick up their orders from Monday to Friday from 9 to 11am.
bank payment – you can pay through the following banks: MetroBank, BDO, BPI and RCBC. You can still pay through other banks, but the clearance process will be longer.
credit card payment – Use your credit card to pay for your order. Simply click Paypal then choose the no Paypal account option.
Getting in Touch
Baby Outlet Review  has listed several ways you can get in touch with Baby Outlet for customer service. They have a direct line, a mobile number and email. These are their current details as of this writing (please check their website for updated information):
Phone: (02) 570 8608
Mobile: 09277777771
Email: [email protected]
Another nice feature of the Baby Outlet site is their Live Chat feature. Mommies who have concerns that need to be addressed immediately can click on the Live Chat button and have a representative answer their concerns. Baby Outlet Review has also tried leaving Live Chat message and inquiries were replied to within 24 hours.
Baby Outlet voucher codes and coupon codes
Baby Outlet Philippines has recently partnered with iVoucherCodes to give discounts, promos and voucher codes for free. Examples of the voucher codes are 15% of sale items, free shipping, 5% sitewide discount when you purchase a minimum of 2500 and others. Search iVoucherCodes.ph for these codes and promos to save money when shopping for your little one.
Baby Outlet Review
If you're looking for a wide array of baby products from a large selection of brands, then you should look no further than Baby Outlet. What are you waiting for? Visit the site and browse through a ton of baby items today! Please share this Baby Outlet Review  if you found it helpful 😀