HappyFresh Voucher Codes
Active HappyFresh Promo Codes & Coupon Codes - May 2019
Grocery time is not always fun in the Philippines, the heat & traffic can make going to the supermarket for your weekly shop of fresh produce, canned goods & meat something that you dread, especially when it's busy hours and you have to find parking spaces and queue for a long time at the checkout. It's from this pain point that HappyFresh PH was born, the online grocery store which has had great success in other Asian countries offers you the ability to shop from multiple grocery stores within Metro Manila through their online store and have all of your groceries delivered fresh to your door as quickly as 1 hour. Give them a try today and you even get a nice big discount, just use one of the below HappyFresh voucher codes or promo codes and you'll be saving money on your groceries.
Active HappyFresh Promo Codes & Coupon Codes - May 2019
Similar Vouchers, Coupons & Promos to HappyFresh - May

Verified

Offer Ends: June 30, 2019
Exclusive for ivouchercodes.ph users! Valid for all restaurants in Manila and Ce... more

Verified
Shop for this week's bestsellers on deals at Metrodeal!... more

Verified

Offer Ends: June 8, 2019
Enjoy P200 off on food orders when you use Citibank card to pay. Minimum spend o... more

Verified
These deals have made it to Metrodeals Best Deals of 2018! shop now!... more

Verified
Enjoy these exclusive deals from Sofitel!... more

Verified
Enjoy 7 days free membership at Booky and enjoy exclusive discounts to restauran... more
HappyFresh Shopping Guide
If you've never gone shopping for groceries online before then this is an exciting time, HappyFresh is a rapidly growing online grocery platform serving Southeast Asia including Metro Manila where you can shop at their website for groceries from your favorite supermarkets and have them delivered to your door at a chosen time slot, as fast as just 1 hour! That means if you've run out of some ingredients or fish for tonight's meal you can simply go their their online store and within 60 minutes your personal shopper will arrive with all of the produce you ordered from your chosen grocery store, you can also get some nice savings & discounts with our HappyFresh voucher codes & coupons.
So how does HappyFresh Philippines work?
It's a piece of cake, visit their website or app and enter your city within Metro Manila so you can see the available supermarkets and choose which one you prefer to shop from, then you'll be able browse through their categories such as bakery, deli, dairy, pantry, canned good & meats plus for each item you'll be able to see the price of the food, the weight or size and you'll be able to select the exact quantity that you want to buy. You can browse at your own pace to compare prices of different food items such as eggs, bread & tomatoes and as you shop you'll be able to see in the top right of the page your exact bill making it easy and convenient to stick to a budget. Besides food and drink you'll also be able to order other common household items that are usually on your shopping list such as kitchen supplies, health & beauty products and baby essentials such as diapers, baby food and forumla. Then once you've ordered everything you want to buy you simply click on the shopping cart in the top right and proceed to the checkout page where you'll be able to select replacement produce in case something is out of stock, this is also where our favorite part happens as you'll be able to select down to the hour what time you want your personal shopper to deliver your groceries to your home & also this where you can enter your HappyFresh promo code to get your discount.
HappyFresh Daily Deals & Discounts
We're super excited about having HappyFresh in the Philippines, the thought of being able to buy your groceries online and have them delivered is going to be a huge time saver for so many Filipinos, skipping the Manila traffic, parking & long queues. But on top of the convenience we're also excited about the money you can save by shopping at their website which offers daily deals on items such as tuna, yogurt, seafood, pasta & thousands of other products, they also frequently discount food items to encourage shoppers to stock up on certain products for extra savings so be sure to check this page for the latest HappyFresh voucher codes, promos & special offers. On any given day you can see hundreds of items in the HappyFresh specials section that have had price reductions of up to 50% off so it's worth making it a habit to always check their specials page as this where you can really start saving a lot of money on your groceries and find the biggest discounts on items such as cola, coffee, olive oil, Mama Sita's mixes & even pampers diapers.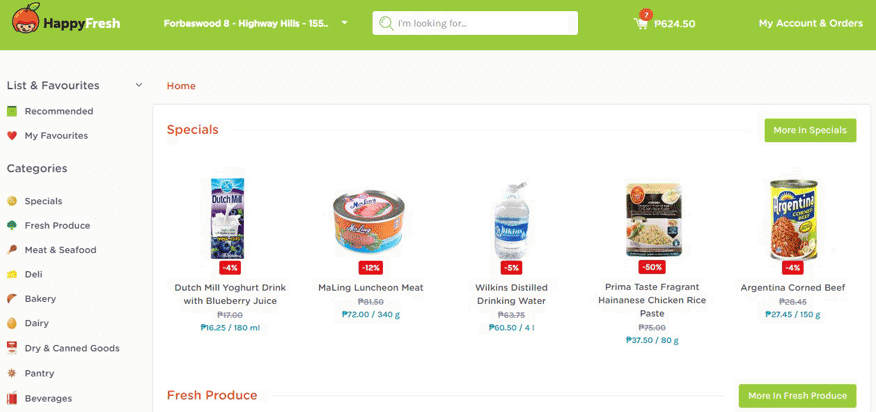 How to Redeem a Voucher Code
Get your HappyFresh discounts instantly for online grocery shopping and delivery in the Philippines by following these simple steps below, the discount hunters at iVouchercodes help you find the best deals & coupon codes from the best retailers in the country and then show you exactly how to quickly redeem their special offers, helping our users save some money while sending more business to the retailers and helping online stores get their discount promotions in front of more users. We spend each day surfing the web and tracking down deals for meat, baked good, canned food and everything your home might need to save you money on your groceries when you shop at HappyFresh Philippines.
How To Use a HappyFresh Voucher Code?
1) Have a look through the codes and special offers in the section above.
2) If you find a coupon code then all you need to do is click 'Get Voucher Code' or if you've seen a promo then you can click on 'get this offer' to see the deal on their website.
3) After clicking 'Get Voucher Code' you'll be able to see the special code on a new page which you then need to copy or make a note of it somewhere, keep it safe as you'll need it shortly to redeem your discount.
4) Below the code you'll see a button that says 'Go To The Happy Fresh Website', click on the button to be taken to their online store so you can start shopping for groceries as normal.
5) When you're finished shopping it's time to go to the checkout page to get your discounts, click on the shopping cart icon in the top right of the page and then click on 'Checkout Now'.
6) When you get to the delivery page in the checkout (see below image) you'll be able to paste or type in the code we gave you into the voucher code box, then click the 'Submit' button, you should see a discount instantly applied, if no discount is applied read point 7 below.
7) If it doesn't work check the terms of the coupon, it might be only valid with a minimum spend amount or on specific categories or products, if it still doesn't work move on to trying one of our other coupon codes.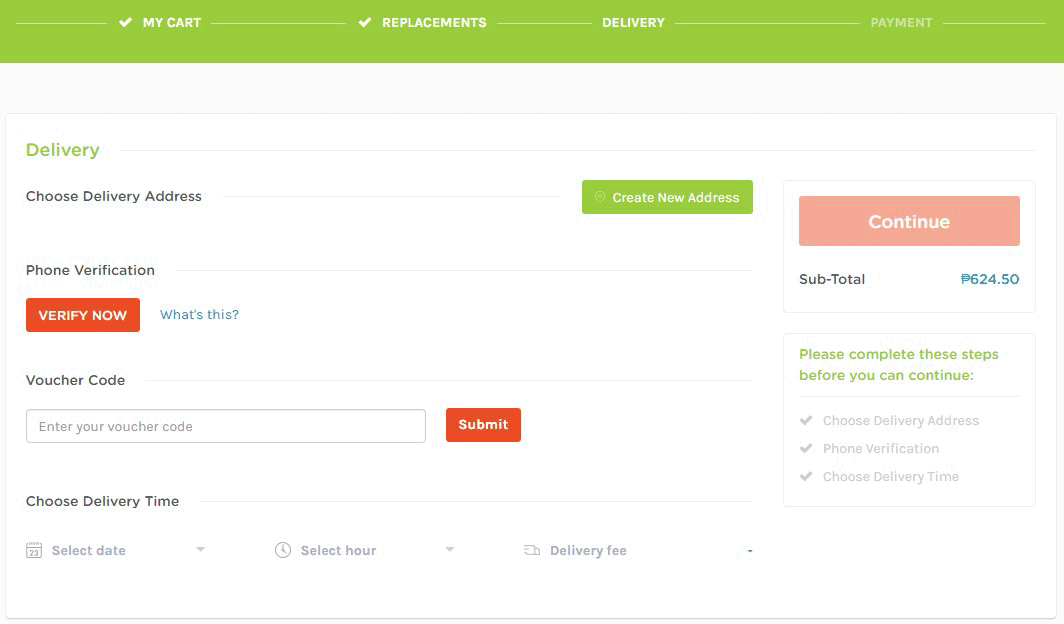 Contact information for HappyFresh
Happy Fresh Philippines Contact Number: +639157313870 Official Website: www.happyfresh.ph
Related Categories
Shoppers Looking For HappyFresh Coupons Also Looked For...
Popular Stores
Share a Coupon
Complete the form below to share your coupon with us.
Food voucher codes, coupons and discounts
Newsletter
Sign up for an account to get the best Promotion Vouchers